History of Roberts & Co.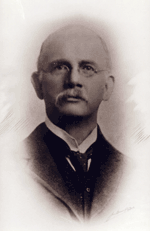 Our family has been involved in the tea and coffee business since the 19th century. John Wilson Roberts came from Nefyn, on the Llyn peninsula, in North Wales.
Like many Welsh, he moved to Liverpool to work, and into the tea trade, which was dominated by the Welsh. Liverpool was at the peak of its prosperity and tea was a major import. He started his own business – Wilson Roberts & Co.  in 1891. Initially the company was solely a tea merchant, with coffee not added until the 1930s.
Sales were largely back to the North Wales area. The Port of Liverpool constituted the other main area of business. Shipping lines Cunard, Blue Star Line, White Star Line and others were customers.
That was the pattern of trade until the late 1950s – 1960s when the decline of the Port and the arrival of supermarkets mean that new markets had to be found. The catering trade became the biggest element of sales.
We moved into speciality Tea and Coffee shops in the 1980s. We opened shops in Wigan, Chester, Royal Exchange Manchester, Southport and Soho! In 1989 we added The Cafe at Cedar Farm, in Mawdesley. Rising high street rents and the aftermath of the 1996 Manchester bombing led us to pull out of the retail trade.
Now we concentrate on Cedar Farm. We roast there and sell direct, by mail order / internet and wholesale as well as running the Cafe. We never forget our tradition and commitment to quality.
More Information
For more information about the Roastery or if you have any questions please visit or contact page or telephone 01704 822433.